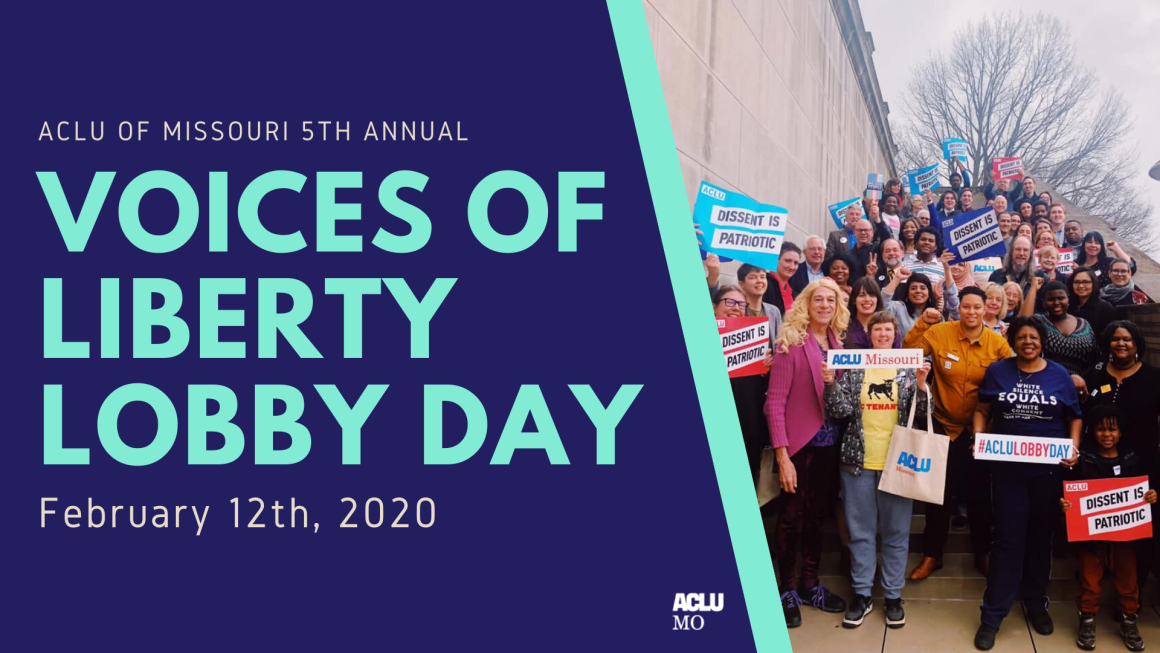 Join fellow ACLU of Missouri supporters on Wednesday, February 12th to fight for our civil rights at the 5th annual Voices of Liberty Lobby Day!
Lobby Day is an opportunity to remind your elected officials of their responsibility to protect the rights of all Missourians. We need you with us! We'll provide snacks and transportation from Kansas City and St. Louis to the Missouri State Capitol in Jefferson City.
We hold trainings in the weeks prior to show you what to expect. This training will help you feel more confident and prepared as you advocate for people's rights. Sign up to attend one in your area today - and bring a friend!
Lobby Day Training
We need your advocacy and your voice! ACLU MO wants you to have a successful Lobby Day visit with your legislators. RSVP for the any of the trainings below! 
Kansas City | RSVP HERE!
Friday, January 17th from 6:00-8:00 pm at UMKC - 5000 Holmes St, Kansas City, MO 64110, Room Law O30

St. Joseph | RSVP HERE!
Thursday, January 23rd from 11 am-1 pm at Missouri Western State University - 4525 Downs Dr, St Joseph, MO 64507, Blum Student Union, room 222

Independence | RSVP HERE!
Monday, January 27th from 6:00-8:00 pm at Midcontinent Public Library - 317 W. 24 HWY Independence Mo 64050, Community Room 1

Columbia | RSVP HERE!
Tuesday, January 14th from 6:00-8:00 pm at Columbia Public Library - 100 W. Broadway, Columbia, MO 65203

Springfield | RSVP HERE!
Wednesday, January 22nd from 6:00-8:00 pm at Library Station - 2535 N Kansas Expy, Springfield, MO 65803, Frisco Room

West County | RSVP HERE!
Sunday, January 19th from 1:30-3:30 pm at St. Louis County Library - Daniel Boone Branch, 300 Clarkson Rd, Ellisville, MO 63011

St. Louis | RSVP HERE!
Tuesday, January 21st from 6:30-8:00 pm at Deaconess Foundation - 1000 North Vandeventer Ave, St. Louis, MO 63113