The School-to-Prison Pipeline
The School to Prison Pipeline is a vast system of structural inequalities which form a channel that pushes children out of public schools and into the criminal justice system. One common manifestation of the pipeline occurs when certain student's behavior are interpreted through a biased lens, and they are punished harsher than their peers.
Frequently, disparties among who is disciplined exist. Black youth are at a higher risk of receiving out-of-school suspension than their White peers. 
Black youth with disabilities are 8x more likely to receive out-of-school suspension
Black students are 5x more likely to receive OSS than their white peers
Black children with disabilities are suspended 3x more frequently than white children with disabilities
Black students make up 16% of Missouri's school population but 46% of the suspensions as discipline
The ACLU of Missouri Mobile Justice smartphone app was created to empower individuals to hold Missouri law enforcement agencies accountable for their actions. Learn more. 
Get Involved
Do you have lived-experiences with school-based suspensions, expulsions, or corporal punishment? If you are interested in sharing, please send an email to Iyaun Bell at IBell@aclu-mo.org or Sydney Smith at SSmith@aclu-mo.org. 
Upcoming Events
Family Engagement Meetings
Caruthersville Public Library
6:00 p.m. to 7:30 p.m. on the second Tuesday of the month.
Dates:
June 13, 2023
July 11, 2023
August 8, 2023
September 12, 2023
October 10, 2023
November 14, 2023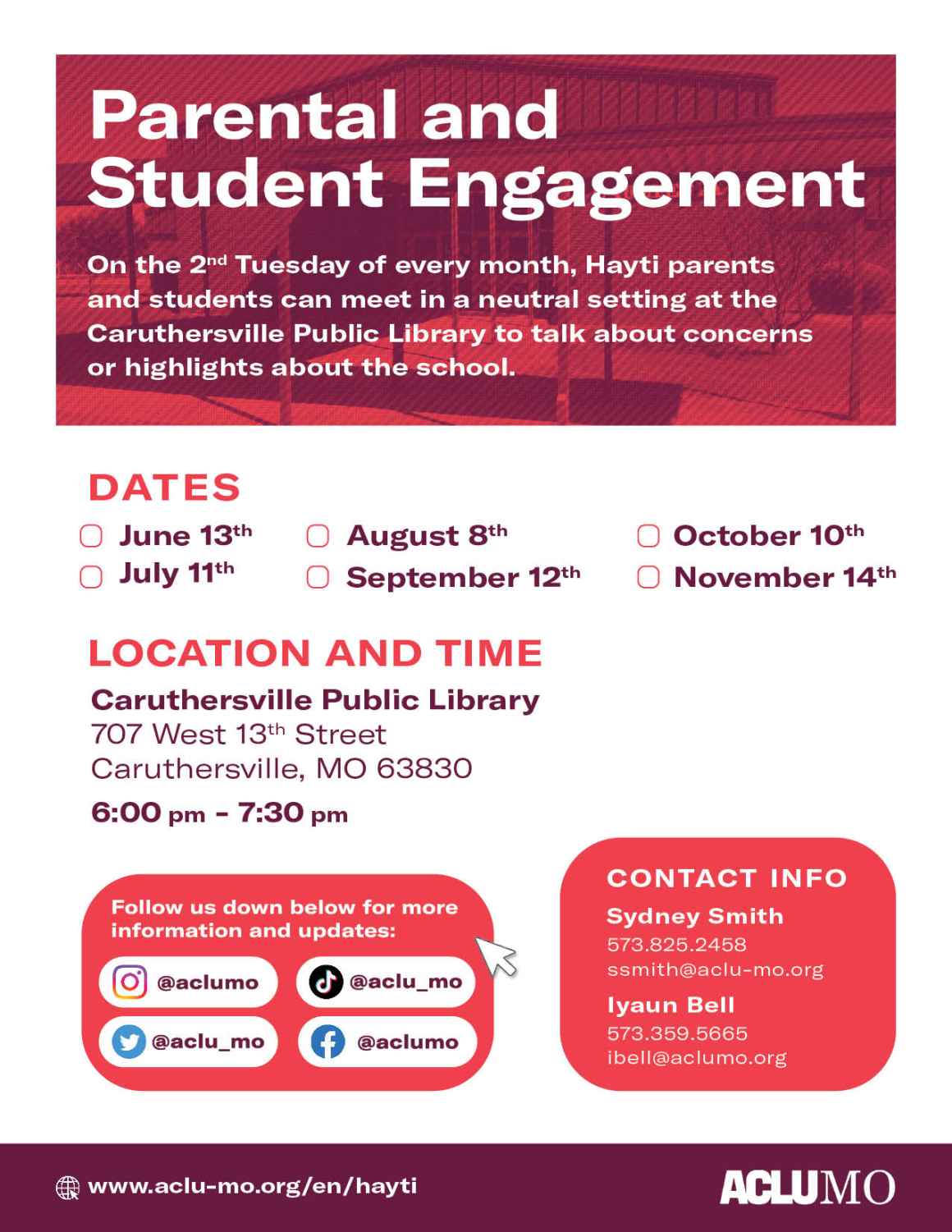 For past events, visit our acrhive page.