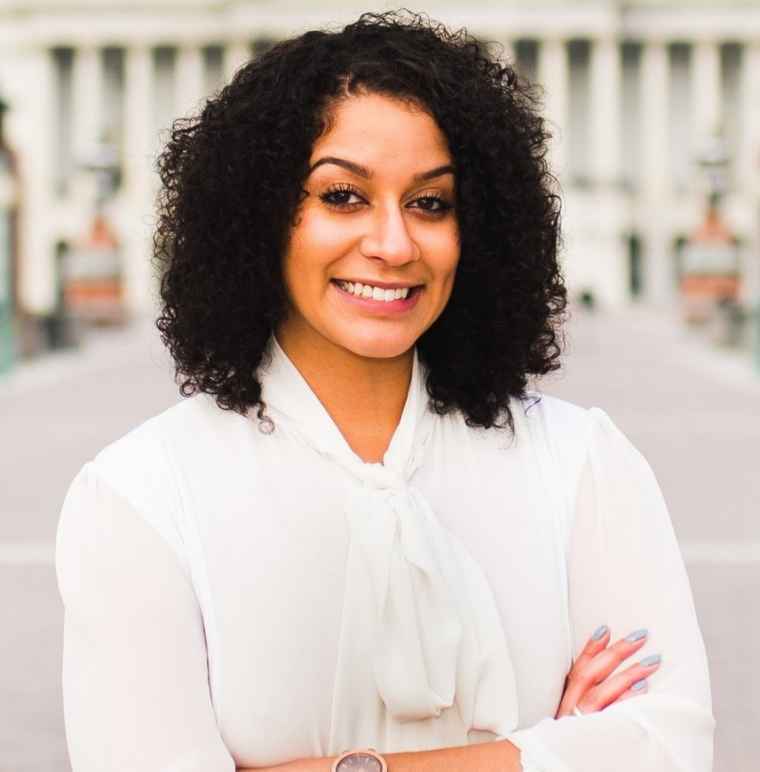 As I sit here on the 3-month anniversary of my time with the ACLU of Missouri, I, like many of you, am working from home. I am continuing to learn about and from my ACLU team from a distance—over many video and phone calls. I am grateful for the supportive environment I find myself in. This is by no means what I envisioned for my time with the ACLU, but we have all had to adjust.
What makes this time easier is enjoying the work we do knowing that it is meaningful to the lives of individuals and communities across Missouri. Prior to joining the ACLU of Missouri, I was living in Washington, DC. I graduated from the Howard University School of Law and, during law school, worked for the ACLU Washington Legislative Office. On the Criminal Justice Team, I worked on the national level to research and analyze proposals focused on sentencing, re-entry, clemency, and women's prisons issues. Working in such a critical legislative space with a well-known and respected organization gave me a better understanding on the issues facing those who are incarcerated, their families, and communities.
Taking the lessons learned from this experience, I was able to serve two U.S. Senators and a U.S. Congresswoman in Washington, DC. They say there are two things in the world you never want to let people see how you make 'em: laws and sausages. Seeing how the sausage is made gave me a greater appreciation for all those working on the frontlines to defend and improve our democracy.
This position, as the Legislative Associate for ACLU-MO, feels like a culmination of these previous experiences. Working with elected officials and community organizations on issues related to protecting and expanding civil liberties is by no means easy work. My time is split between Jefferson City during legislative session and Kansas City the other half of the year. Having participated in the legislative process from the lawmakers' side, advocating for its change is a change of pace.
During our hyphenated session this year, we advocated on behalf of the right to marry and remain married under state definitions, allowing eligible defendants confined in jail the ability to vote, freedom of speech for student journalists on college campuses, restitution for those wrongfully convicted by the state, and pushed back on mandatory minimums and overbroad prosecutorial discretion without local accountability. We brought together broad coalitions to defend the right of parents to provide medical care to their transgender children and heard heart-wrenching testimony from many of the children themselves. We have fought to limit the use of restraint and seclusion against our children in schools and have brought busloads of students to the Capitol to advocate for themselves during numerous Lobby Days.
What makes it unequivocally worth the time and effort is knowing I am working for my community. Though I attended undergrad and law school in DC, I was raised in the great state of Missouri, in the suburbs of Kansas City. Guiding students from all parts of the state through the legislative process and placing them directly in front of their legislators, comforting a mother doing the best she can to help her transgender child navigate the world, standing next to a formerly incarcerated individual fighting for their own rights, and working with a passionate team makes this hard work more than worth it—day in and day out.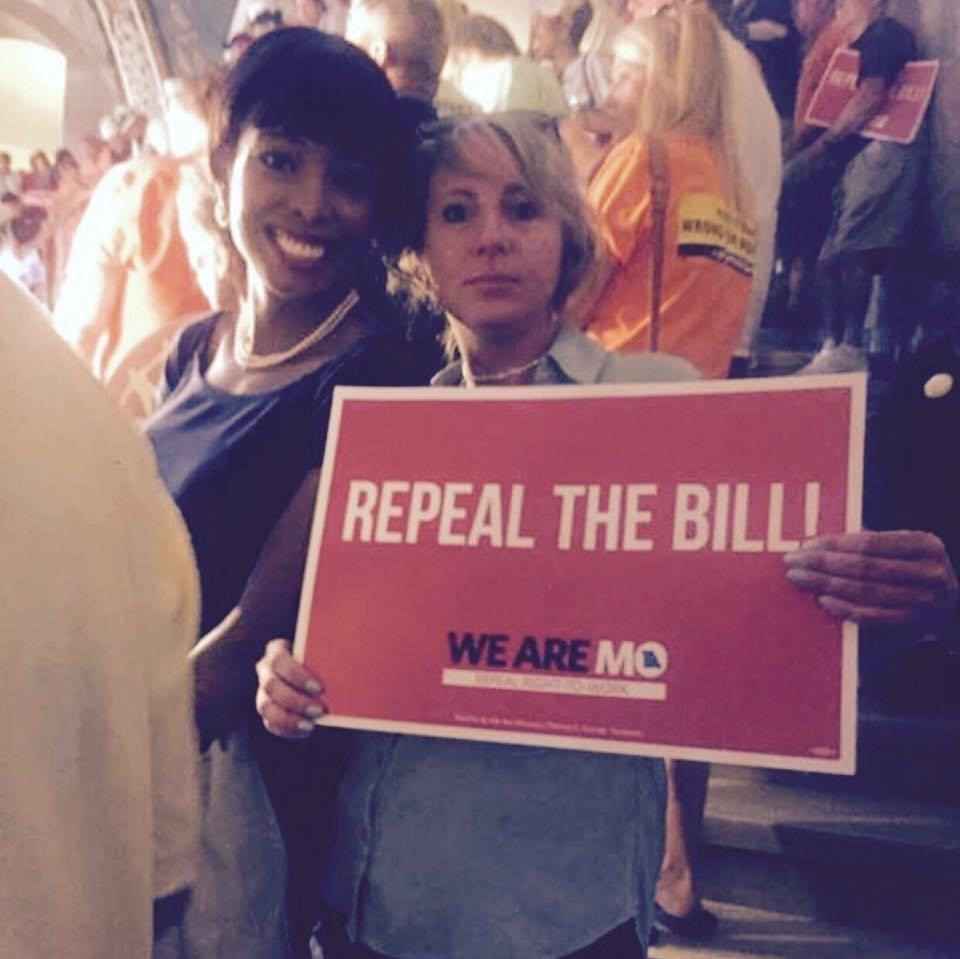 As I drove away from the Capitol on January 15th, I listened to Governor Parson in his State Of The State address discuss the importance of Missouri setting up its youth for success. He spoke about how we must invest in early childhood development so they can grow to be productive citizens. Having been an educator for six years before working in the House of Representatives, I wondered if I had made the wrong decision in accepting the Digital Communications Associate position at the ACLU of Missouri, which I was to start the next morning. Education and specifically the school to prison pipeline are two things I care deeply about and had been the catalyst to my work in government. Would I still be able to advocate for youth at the ACLU, known to most as the guardian of free speech?
Within days that question would be answered as we witnessed an onslaught of 19 anti-LGBTQ and specifically anti-trans bills targeted directly at Missouris trans kids. These bills such as the criminalizing of parents and doctors who provide trans-affirming care, banning trans athletes from participating in sports, and even a don't say gay bill were moving fast.  Watching other states with similar legislative makeup, it was clear these were a priority. 
To stop egregious legislation in Missouri, you have to garner support from both sides of the aisle. With the power imbalance it is a rough ride. In my previous position, I had worked towards this goal by playing inside baseball. Hosting regular bi-partisan BBQs had built relationships among legislators and staffers that were typically adversarial. I had seen the importance of communication and the power that gaining empathy for someone that you may not have understood before has in changing hearts and minds. In Harper Lee's To Kill A Mockingbird, Atticus Finch tells Scout that "You never really understand a person until you consider things from his point of view- until you climb into his skin and walk around in it."
Listening to and elevating the voices of those impacted by adversity to create change was the greatest lesson I had learned during my time at MOLEG, and I was ready to transition that to advocacy work. Watching my new co-workers like Jay-Marie Hill, the ACLU MO's Trans Justice Organizer support, mobilize, and fight along with the parents of  LGBTQ youth and their children motivated me to get their stories out. We were gaining ground and impacting votes through testimony and education. The anti-marriage bill which had gained national attention had died in committee and we were geared up to keep fighting. One down, 18 more to go.
And then a global pandemic hit. I had been watching the death toll tick up in Italy closely as I am a news junkie who grew up in Europe and feared for my friends and family. My anxiety crept in as our state, and federal government persisted in ignoring the impending disaster that would surely hit our shores.  We watched as the legislature was forced to pause session abruptly. While I welcomed the fact that these terrible bills were now stagnant, this was not how I had hoped to accomplish it.
Our office made the sound decision to start working from home. Focus had to rapidly shift as prisons and jails are an incubator for disease with a health system that is as inept as it is cruel. I had worked on the Corrections Committee at Moleg and spent many hours building relationships with offenders, listening to their stories, and advocating for their health. I am particularly passionate about prosecutorial reform and the rights of the incarcerated as my nephew was sentenced to death at the age of 15 in the late '90s under the reign of Bob McColloch. His sentence commuted to life, he was murdered after a basketball game at Bonne Terre Correctional facility a few years ago. Watching a child with schizophrenia be thrown away by society had taught me to uplift the injustice of our justice system from a young age.
So now in my third month on the job as I sit in my home office working with families of incarcerated individuals to tell their stories, creating graphics, hoping to convince an empathy fatigued and terrified public that our state's most vulnerable matter. I know that I am in the right place, doing the work that my ridiculously non-linear path has brought me and I wouldn't want to be anywhere else.